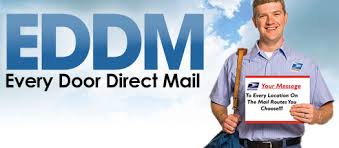 The solution to your problem could be E.D.D.M. which is a new mailing system to benefit business owners wishing to mail their advertisements to a known location.
What is E.D.D.M.?
It stands for Every Door Direct Mail and is a new way of mailing information to potential clients. Usually, in order to mail your advertisement you have to pay for a mailing list which can be very costly. In most cases, the lists can only be used once, and therefore are useless after the initial purchase and use. Next, you still have to pay for the stamp or method of shipping to actually send out the mail which again raises your price greatly. The Post Office found a better way to do this which is called Every Door Direct Mail. This method allows for a company to pay a flat fee per item of mail to a certain area code without needing a list. This makes it easier to get your ad to a large area and is also cheaper.
Is it right for you?
If your goal is to reach the mass audience of your town or a section of the state close to you, then E.D.D.M. would help. An example could be, if you own a pizza shop and want to send your menu in the mail to all houses in your town, this would be perfect. Any business that has a location already in mind for who they want to receive their ad is also perfect.
How can we help?
Our motivated and talented staff will help you turn your idea of an ad into a reality. We will be able to guide you into making the right decisions on every step towards printing your ad.